The Confessions of Miss Shawl
STORYFEATURED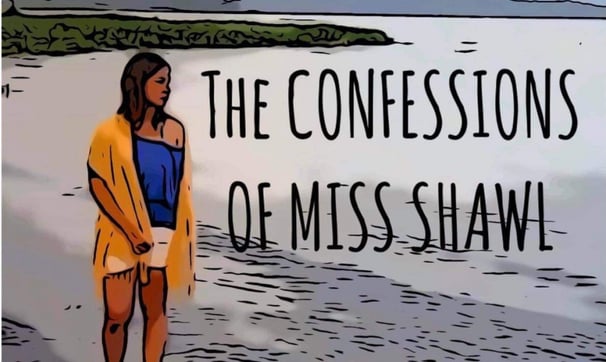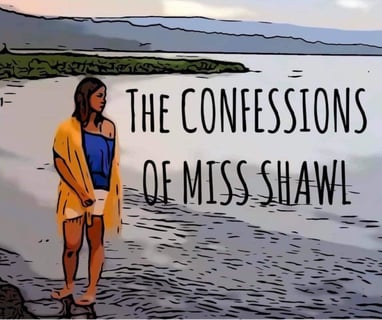 I saw her passing by my cabin for five consecutive days. She was a beautiful lady who always wore a thin colored shawl paired with jeans and blouse. Her hair was long, wavy and dark brown. She was petite with light brown skin and radiant eyes.
I didn't know her name so for now I wanted to call her my "Miss Shawl".
I decided to stay in the cabin after my mom died of cancer last month. She raised me alone. I never had the chance to meet my dad. She mentioned that he was a local in the community that she met while studying Psychology. My mom had Ukrainian roots and named me Danilo. She raised me her way.
I missed my mom.
I inherited the cabin from my mother. It was old but still looked nice, clean and cozy. The view here was amazing and it was overlooking a peaceful lake. It had a beautiful deck where I could sit, barbecue and relax as I watched the waves and listened to the wind. The satellite signal was great too. I worked as an IT professional and was doing work remotely since the pandemic started, and this was definitely a good spot.
From my deck, I saw the lady with shawl again. The sun was almost setting and this time, she was wearing a beige see-through dress. I could see the curvaceous shape of her body from afar. I could see her walking towards the lake. I couldn't help myself, so I followed her to see her closely. Then, I realized my feet were already touching the waves while she was swimming from afar. I saw her walking back from the shore. After some time, she was facing me, I could see the fullness of her body. She was not wearing anything underneath.
I could not explain what I felt, but I was mesmerized by the scene. I saw her ran away towards her cabin when she caught me watching her. I was both astonished and embarrassed of what I did. I wished she wouldn't think of me as some kind of a pervert. But I would accept the fact, that I felt lustrous for a moment.
I noticed she left something on the shore. It was a diary and a pen. I grabbed it before it could get lost in the waves. It was getting dark, so I decided to bring it home for a while and to return it the next day.
That night, I was staring at her journal. I thought she wouldn't know it when I read it a bit. I knew I could not sleep without peeking. So, I did.
I opened the page and began reading it. Her diary started when she was 25 in the 70s. This made her in 50s at this time, but she looked totally younger than that. I thought she was of my age or even younger. I was in my early 30s and a single guy with two unsuccessful relationships.
From the diary, I learned that her name was Eliza, and she was raised by a Filipina mom and a Spanish dad. She grew up in a Christian world and attended a Catholic school. She was both beauty and brains.
I skipped some pages.
I stopped at the page when she got married at 30, and all she wanted was to build a family, to have a loving husband and kids. But it turned out to be the opposite of what she wished for. She married a physically, verbally and sexually abusive husband who would hurt her every now and then.
So, she started wearing a shawl to hide the bruises in her neck, her arms and even on her face. She never had the chance to have a kid. She had five miscarriages. And no one knew of her misery because she wanted the people to believe that they were a happy couple. She worked in research and she had a career. Once in a while, she went to the cabin on her own. And in her diary, she wrote her dreams, desires, struggles and pains.
She pictured herself as a woman coming home to a lovely garden with scented flowers and a loving husband who was waiting for dinner. She would love to listen to a ballad, a jazz or a classical music, as they share their supper together.
In her thoughts, he would hold her hands and caress them, then he would slowly touch her like it was always the first time. He would slowly kiss her gently on the lips, then slowly move to her neck. He would carry her to the room, where she would be greeted with flowers on bed. He would softly kiss every part of her with desire. And she would slowly give in and surrender herself wholeheartedly. And as they merged into one, they would make an exciting culminating sound of lust and satisfaction. This was the kind of love she wished she had, but she never had!
The way the words were written made me shiver. Some burning sensation within my manhood was awakened, like I wished I could be the man who could give it to her. I wish I could make love to her just the way she wanted it to be.
I fell asleep holding her journal. Tomorrow I would return the book.
I knocked at her door before sunset, but no one answered.
I saw her sitting near the shore. She was watching the sunset. I left the journal in her porch and followed her in the lake.
She was sitting down with her feet touching the waves. I sat beside her. I felt her head leaned on my shoulder. I could smell her sweet scent. I could feel the smoothness of her hair. Together, we watched the sun as it slowly set in the west.
The days were becoming shorter and the weather was getting colder.
For three consecutive nights, we watched the sunset together. I got many questions in my head.
The fourth night was different. The weather was pretty bad, as if it was warning a thunderstorm.
I did not see Eliza for the whole day, so I got worried. I went to her cabin. I heard a sound of cry in the room. I followed the sound and found her laying on the bed. Her shawl looked tangled and tightened on her neck. Slowly, I removed the cloth on her neck. Seemed like the shawl was more than 7 feet long. I kept on unwrapping the shawl for quite some time but it seemed like I could not get to the end. She held my hand to ask me to stop. I lay beside her on the bed. She was crying. It was cold so I moved closer to her to keep her warm and comfortable.
There were lightnings, thunder and heavy rains.
The only light was an old lamp from the 80s. It was a good opportunity to take advantage of her to release my lustful thoughts that I was keeping for long. But I knew it would be wrong. She was depressed and scared for the moment and all she needed was someone to lean on. So, I let her fall asleep in my arms. The lamp started flickering then it slowly died.
I woke up on the same bed, but everything seemed different. It had the smell of an old cabin and I saw a lot of spider web and dust at the ceiling. Eliza was no longer beside me. The blanket I was holding was a red shawl that was wrapped on her neck. As I laid the shawl, I saw dried blood stain. I called for Eliza, but she was nowhere to be found. The more I stared at the cabin alone, the more I felt my heartbeat pounded like hell. I saw her diary once again. I saw it open on the date September 1st which was the same day 20 years ago. It was the last page of the diary.
"Dear Diary,
It was a good day! My husband was away for a job. I started packing up my things. This will be my last day in the cabin. There will be no looking back. If my husband knew of this plan of leaving him, he would definitely be in rage. He threatened me a lot of times that he would kill me. I was tired of being hit and beaten. My shawl may no longer cover the wound, swell and scratches. My eyes were already tired of crying. I had enough of five years being physically, sexually and verbally abused by the man I thought would love me forever. I want to live a normal life. I may be lonely, but I will never commit suicide. I want to have a second chance of happiness. I will end this nightmare and this chapter in my life. I bought a plane ticket to a tropical island and there I may find peace. I will leave this place to find a better life out there......"
Those were her last words. The paper was stained with blood. When I looked around, it felt so bizarre. There was a cold breeze inside the cabin.
Since I couldn't find her, I called the police to help me understand if I was losing my mind.
Two policemen arrived a few minutes later. When I told them about Eliza, they looked surprised.
The younger officer said, "Eliza died 20 years ago. She was found hanging in her shawl in this cabin. It was a story being passed on by the locals in the community. She committed suicide!"
An elder officer closely looked at me and exclaimed in surprise, "Are you for real? You are an exact copy of Pablo when he was younger." And he pointed me to a picture frame on the wall. "Pablo was Eliza's husband!"
I remembered seeing that photo long time ago from my mother. I asked the cops, "Is he alive?"
The elder cop nodded, "Yes, he is our senior officer"
I was in disbelief of what was happening at that moment. Everything got even more complicated. I was not only trapped with Eliza's ghost, I was also caught between protecting my own father and giving justice to Eliza.
And my mom, was she part of this? Was my mom lying all these years? My mom was dead and whatever she may have done in the past, I would like to preserve her memories and I would not dig deeper into what she may have done.
But as for my real father, I think he was a monster.
I would rather keep the discovery of my identity hidden forever.
I wasn't sure what just happened to me, but I believed this whole thing was trying to send a message of justice.
I chose to give just justice to Eliza and to all the people that Pablo may hurt or would hurt in the future.
I gave the cops the blood-stained shawl and pages that may help them find any evidence linking to her death.
I told them, "I believe she didn't kill herself. I think she was murdered by her husband!"
The policemen were not happy of my statement.
One officer said, "Do you know who are you dealing with? Eliza's husband, Pablo, is our senior police officer and he was well respected by the community for his charitable works!"
Being a good community member was different from being a good husband. Domestic violence was usually kept hidden until someone got severely hurt or died in the worst scenario.
The evidence I presented was enough to reopen the case from 20 years ago. A thorough investigation was made.
Justice was served, not only for Eliza, but also for the woman Pablo was currently living with.
I went to the cabin for the last time before autumn ends.
I still felt Eliza's presence when the wind blew and when the cold breeze touched my skin.
As I watched the waves and the sun set for the last time, I felt like I saw a glimpse of a lady with a white shawl waving at me from a far.
There was a deep silence as the waves seemingly laid her soul to rest.
-THE END -